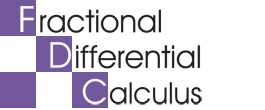 Open Access Journal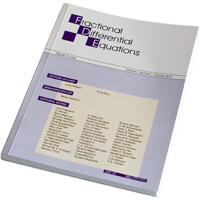 Submissions are free of charge during 2023.
ABBREVIATION
FDC, Fractional Differ. Calc.
ISSN
1847-9677
AIMS AND SCOPE
'Fractional Differential Calculus' ('FDC') aims to publish original research papers on fractional differential and integral calculus, fractional differential equations and related topics. Specifically, contributions on both the mathematical and the numerical analysis of fractional differential calculus in engineering and sciences are welcome. Only papers of the highest quality will be accepted for publication.

'FDC' is published semianually, in June and December.
SUBMISSION
Manuscripts should be submitted electronically in PostScript or Adobe Acrobat PDF format to the 'FDC' Editorial Office through the provided web interface.
The submitter of the paper to the website is referred to as the corresponding author and is the one expected to manage all communication and correspondence with 'FDC' regarding the paper. Authors may indicate their preference with regard to which member of the Editorial Board they consider appropriate for the article. However, assignment to that particular member is not assured.

In order to facilitate refereeing, authors should enclose copies of the papers (written by the author or someone else) which are of importance and referred to in the manuscript but not conveniently accessible.
In order to submit a manuscript, you first need to login to the Ele-Math.com website. If you do not have an account you can create one by clicking here.
COPYRIGHT
The selection of an article for publication automatically implies the copyright transfer to 'FDC'. Manuscripts are accepted for review provided that the same work has not been published (except in the form of an abstract), that it is not under consideration for publication elsewhere, that it will not be submitted to another journal, and that its submission for publication has been approved by all the authors.
PREPARATION OF MANUSCRIPT
Manuscripts should be written in English and preferrably using the LaTeX style provided here:


Download the style package here.
On acceptance of the paper, authors will be asked to send file(s) by e-mail to the Editorial Office.
Title page On the title page author should include the title of the article, author's name (no degrees) author's affiliation, e-mail addresses, mailing address of the corresponding author and running head less than 60 characters.
Abstract, Keywords The manuscript must be accompanied by a brief abstract, no longer than 100-150 words. It should make minimal use of mathematical symbols and displayed formulas.
Subject Classification Mathematics Subject Classification (2000) with primary (and secondary) subject classification codes and a list of 4-5 key words must be given.
Figures Figures should be prepared in a digital form suitable for direct reproduction, grey scale only, preferrably at resolution of 300 dpi or higher, sized to fit a journal page, and in EPS, TIFF or JPEG format. Figures should have a short descriptive title and should be numbered consecutively in order of appearence in the text. The position of each figure in the text should be indicated.
References Bibliographic references should be listed alphabetically at the end of the article. The author should consult Mathematical Reviews for the standard abbreviations of journal names.
PROOFS
The author will receive proofs only once. Late return of the proofs will delay the article to a later issue.
PAGE CHARGES, OFFPRINTS
'Fractional Differential Calculus' ('FDC') is published as open access journal. All interested readers are allowed to view, download, print, and redistribute any article without paying for subscription.
There are no page charges for papers submitted in 2016. Offprints of each article may be ordered from 'FDC' prior to publication.
Additional information
'FDC' is published by Publishing House Element d.o.o., Zagreb, Croatia.
All correspondence and subscription orders should be addressed to the Editorial Office:
Fractional Differential Equations
Editorial Office
Menčetićeva 2
10000 Zagreb
CROATIA
website: fdc.ele-math.com
e-mail: fdc@ele-math.com
Tel: (+385) 1 6008-700
Tel: (+385) 1 6008-701
Fax: (+385) 1 6008-799